Primary Care Centre Assistant / Driver
Job Type
Working Pattern 15.9 hours a week on average working a mixture of shifts during evenings, overnights, weekends and Bank Holidays
Salary £9.02 per hour with a 30% uplift between 8pm – 6am weekdays and all day Saturdays. 60% uplift Sundays and Bank Holidays.
Location Telford & Shrewsbury
Closing Date 21/06/2021
Interview Date TBC
Contact Sarah Mansell-Jones
Telephone 01743 454900 / 07812 971524
Shropdoc are currently looking to recruit a Primary Care Assistant to provide support to our Doctors and UCP's who are visiting patients at home or seeing them at the base. The role will involve checking all kit, equipment and vehicles, driving clinicians to visits, undertaking reception duties at the base, completing associated paperwork, maintain drug stock and helping to ensure that our patients receive the best possible care.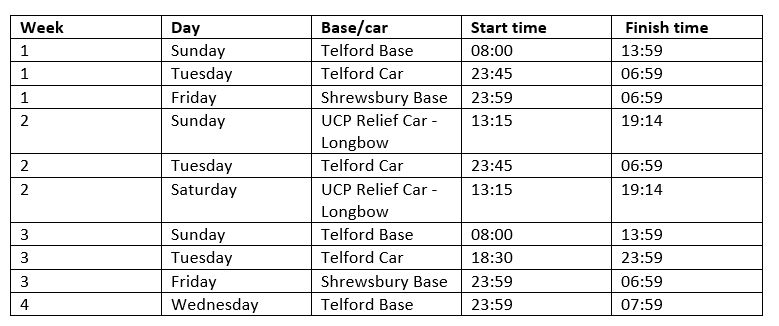 You must have a full driving licence, good local knowledge, general computer skills, experience of using a satellite navigation system and excellent communication skills. Along with being a team player you should be able to work on your own initiative and be reliable, flexible and self-motivated.
For an informal chat please contact Sarah Mansell-Jones, Field Team Manager on 01743 454900 / 07812 971524
** We reserve the right to close the vacancy earlier due to the number of applications received **
Problems applying?
If you have any problems applying online or downloading our application form please contact us on applications@shropdoc.nhs.uk or 01743 454900.
Now what?
Application Forms can either be printed off and sent to Shropdoc, Unit A, 3 Longbow Close, Shrewsbury, SY1 3GZ or Completed electronically and returned to applications@shropdoc.nhs.uk